Unilock Cookout + Ecofine Demonstration
Join us on Wednesday, May 21 for a Unilock event featuring a demonstration of Ecofine resin joint sand and a drop-in cookout.
Our event begins at 10:30am with an installation demonstration of Romex' new Ecofine resin joint sand.  Ecofine is a ready-mixed, 1-component pavement jointing mortar. Notable features of Ecofine include:
suitable for joint width from 1 ⁄8"
suitable for joint depths from  1 1⁄4"
usable around pools (chlorine and salt water resistant)
ideal for closely laid paving stones and slabs
frost and de-icing salt resistant
suitable for permeable pavements
Following this demonstration, we'll host a drop-in cookout from 11am to 1pm. Stop by anytime to say hello to Unilock's Joe O and learn about product additions and other news for 2023.
This event is free to attend.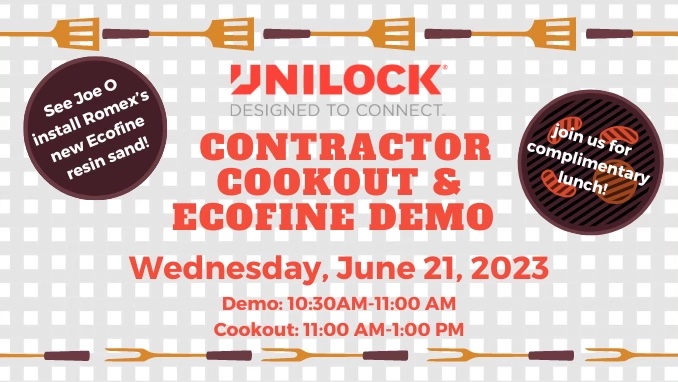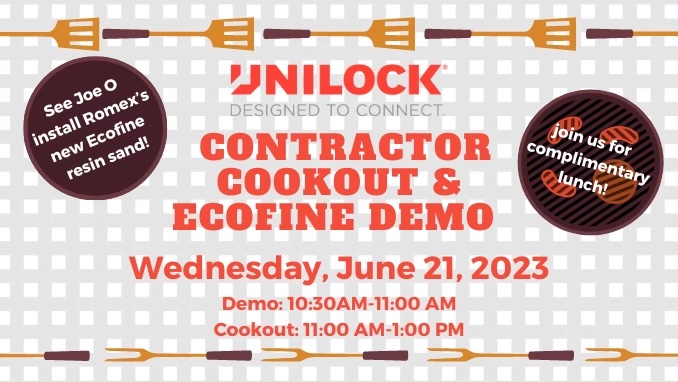 Ah, you missed it!
This event is over now, but don't worry—we always have new ones coming up in the future!
Upcoming Events