Outdoor Kitchens & Cooking
Kitchens are the centerpiece of great outdoor rooms
Great solutions for outdoor cooking are an essential element of Life Built Outdoors. A dependable cart grill can suffice for many patios and decks, but upgrading to an outdoor kitchen provides more flexibility and convenience. Penn Stone offers a range of solutions to create a functional and versatile outdoor cooking center for nearly any budget.
When working with customers planning an outdoor kitchen, we usually start by discussing whether a masonry exterior or the look of finished cabinetry is more appropriate for their outdoor space. For a masonry look – stone veneer, brick or stucco – start with Eldorado Outdoor and choose a natural stone countertop. To design an outdoor kitchen that emulates indoor cabinetry, Challenger Designs offers an ideal solution. After we assist you with choosing the best outdoor kitchen system for your outdoor room, we can guide you through our collection of grills, outdoor appliances, pizza ovens and more as you plan the right combination of cooking, cooling and storage for your project.
Visit our showroom to learn more about our collection of outdoor kitchen components, or schedule an appointment with our Design Advisor to begin planning your ideal outdoor kitchen.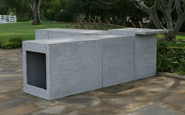 Eldorado Outdoor
Eldorado Outdoor is a system of outdoor kitchen base cabinets that can be combined in a mix-and-match fashion to create many combinations of semi-custom layouts. Eldorado Outdoor features standard sizes of straight and corner cabinets, as well as cantilever options for bar and counter seating. Each box comes with a "pre-scratched" surface, suitable for easy application of natural veneer stone, manufactured veneer stone, thin brick or stucco. Installation is straightforward, although in most cases we recommend working with a professional contractor. Eldorado Outdoor cabinets can be installed over a base of compacted crushed stone or over poured concrete. Each box features wide openings for easy installation of utilities such as electric, gas and water, and installing your grill, appliances, doors and drawers is done on-site by cutting openings with a masonry saw or angle-grinder. Complete your kitchen by installing closed-end panels, finishing with your choice of veneer material and installing a stone countertop.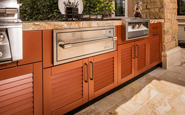 Danver & Brown Jordan Outdoor Kitchens
Danver Outdoor Kitchens specializes in fully-finished outdoor kitchen cabinets. Danver kitchens resemble indoor kitchen cabinetry, but engineered and constructed for installation outdoors. Danver features a vast library of base cabinet units, including appliance cabinets, door and drawer cabinets, and units to accommodate sinks or trash receptacles. All Danver cabinets are produced in 304 stainless steel, with dozens of powder-coated finish options in your choice of door styles and door inserts. Brown Jordan Outdoor Kitchens is an extension of the Danver product line, offering the same library of cabinet sizes, with additional door and finish options. All cabinets in both lines feature soft-close door and drawer hardware. Installing Danver and Brown Jordan Outdoor kitchens is very straightforward, and can often be completed in one day. Base cabinets come with standard leveling legs for easy adjustment, and hardware to connect each unit to the adjacent cabinet.
Built-in Grills and Appliances
Carefully selecting the proper grill and outdoor appliances for your outdoor kitchen is essential. It's important to consider how you plan to use your kitchen to be sure to include the features you need, but to avoid purchasing and installing expensive outdoor appliances you are unlikely to use. Choosing a quality built-in grill typically guides the process. Built-in grill heads can be configured for natural gas or propane, range in size from 24" to 54", and can be simple or elaborate to suit your preferences and budget. Standard grills will feature a manual or battery-powered ignition, a simple burner configuration, and analog temperature gauges. Grill upgrades include electronic ignition, premium grates, interior lights, sear burners and built-in rotisseries. Appliance options include many features you'd design in an indoor kitchen, plus specialty appliances that are exclusively for outdoor use. Consider specialty burners such as a single or double side burner, or add a power burner with 70,000 BTUs of outdoor cooking power, perfect for boiling corn, crabs or other delicious outdoor specialties. Cool off your life built outdoors with UL Listed outdoor refrigerators, outdoor kitchen kegerators, and outdoor beverage centers. Or add a specialty cooking option such as Twin Eagles' Salamangrill or Teppanyaki Griddle. Stop by our showroom to see our collection of grills from leading grill brands.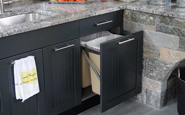 Outdoor Kitchen Storage
Another key benefit to building an outdoor kitchen is adding functional storage adjacent to your outdoor cooking environment. An experienced kitchen designer can recommend the right combination of access panels, drawer stacks and storage cabinets to allow you to keep essential cooking accessories nearby, but safely stored away from rain, sun and wind. Waste collection - a trash drawer or trash chute - is another valuable addition to any outdoor kitchen, allowing you to keep your outdoor area clean and sanitary.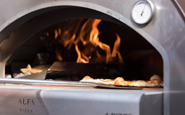 Wood-Fired Pizza Ovens
Add an ALFA outdoor pizza oven to your outdoor kitchen and enjoy delicious wood-fired pizza, bread and more in the comfort of your own backyard. ALFA ovens can be built-in, freestanding or countertop, and are available in a variety of sizes from the compact Ciao to the eponymous 4 Pizze. ALFA ovens are produced with a powder-coated stainless steel exterior, with thick layers of European rockwool insulation inside, and can reach the optimum pizza-baking temperature of 700 degrees in approximately 15 minutes. At that temperature, you can bake each pizza in less than five minutes, with delicious crispy crust and perfectly melted cheese. And ALFA's ovens are not only for pizza - they're ideal for baking tasty bread and roasting beef, chicken, pork, and vegetables.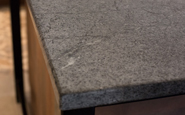 Outdoor Kitchen Countertops
The finishing touch to your outdoor kitchen is a beautiful and durable countertop. Choosing the right material for your outdoor kitchen countertop can be a challenge - the flat, horizontal surface of the counter will be subject to the most intense effects of the sun, rain and snow, and some materials simply aren't up to the challenge. Our countertop collection includes domestic natural stone products like Pennsylvania Bluestone and Alberene Soapstone, as well as imported options such as Chateau Limestone, Filo Blue, Brownstone, and several marble selections. In most cases, our stone countertops are two inches thick, and can be produced in thermalled, honed or polished finishes and with rockfaced, eased or bullnose edge treatments.
Professional Outdoor Kitchen Design
Outdoor kitchen projects can be significantly enhanced by engaging a professional designer for the planning process. There are many important considerations when planning your outdoor kitchen, including appliance selection, storage design and proper ventilation. A professional designer can add considerable value to your project, and can often discover simple ways to improve the overall design and can help avoid costly errors. We work closely with many local professional designers and installers, and can connect you with the right professional to start planning a successful outdoor kitchen project.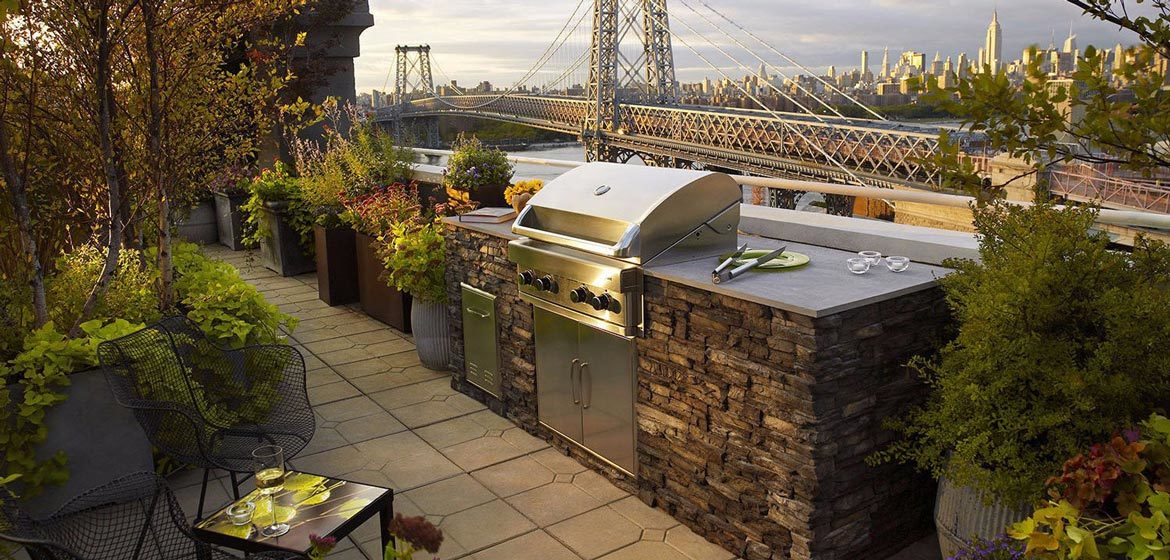 Eldorado Outdoor Rooftop Kitchen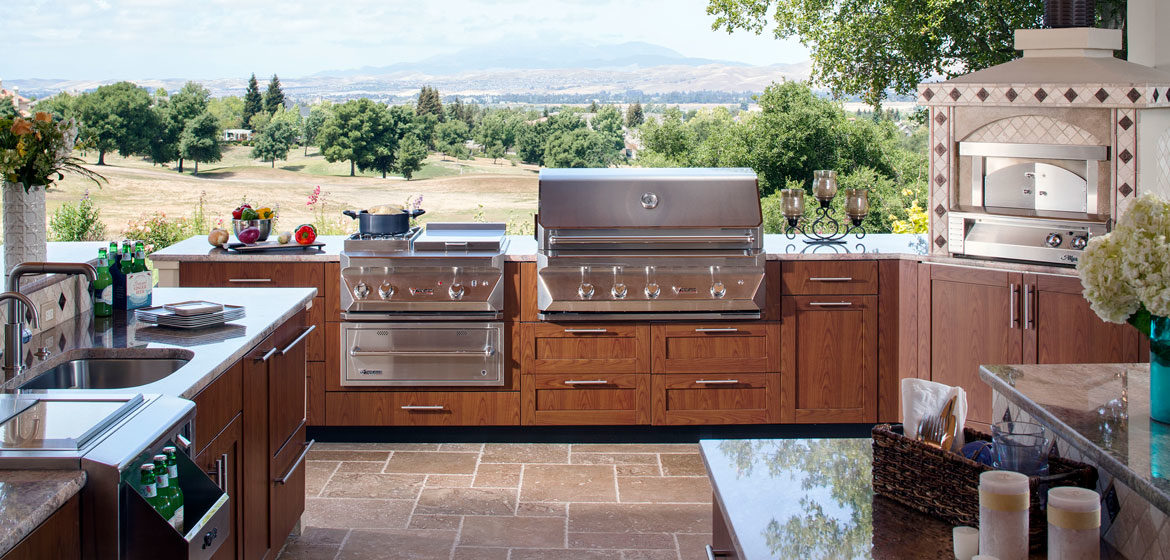 Brown Jordan Outdoor Kitchens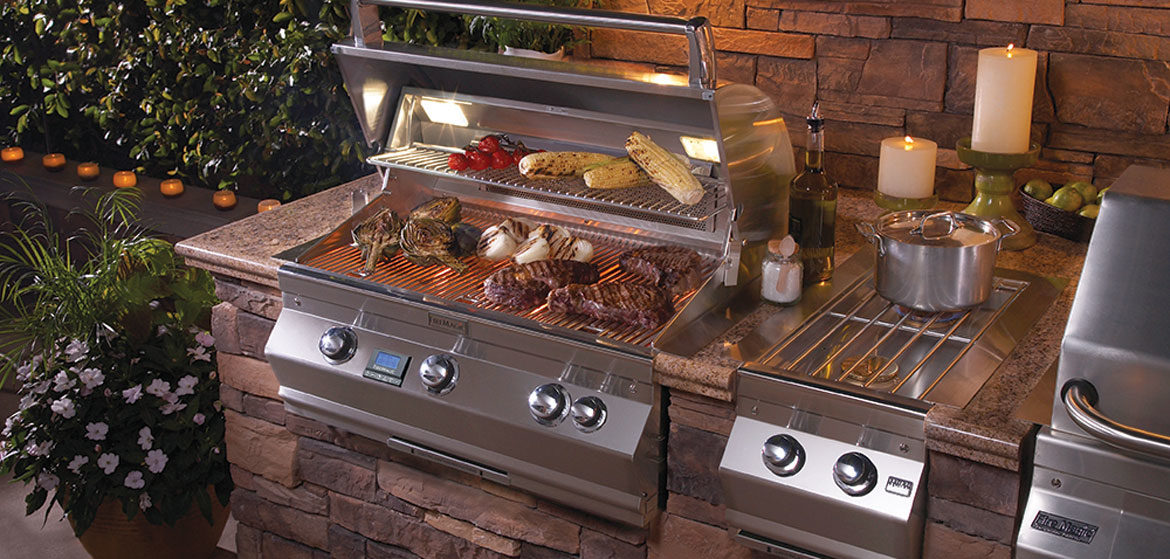 Aurora a660i Built-In Grill, by Fire Magic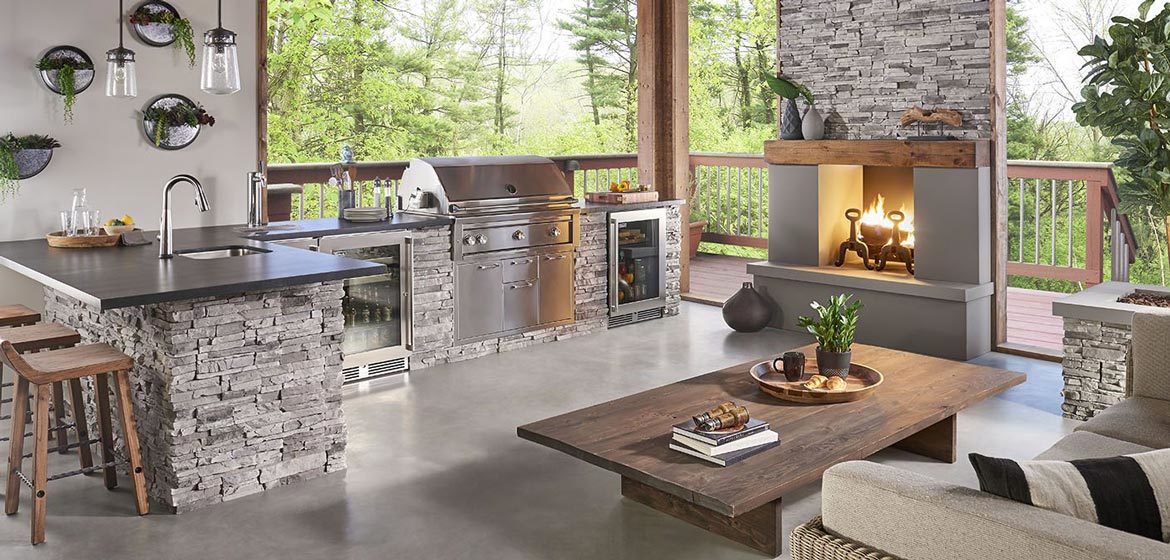 Eldorado Outdoor Kitchen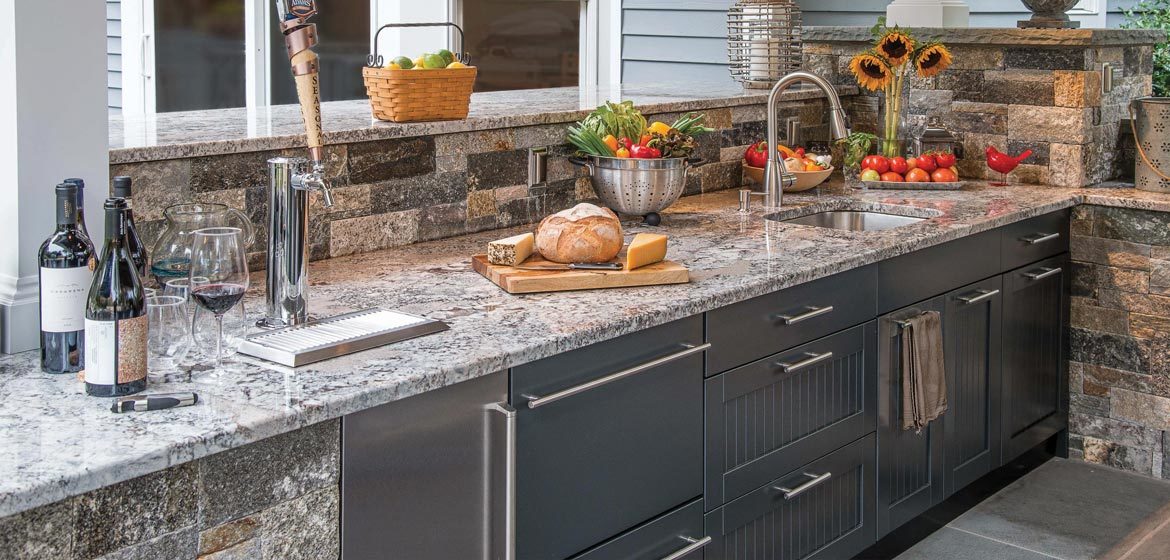 Brown Jordan Outdoor Kitchens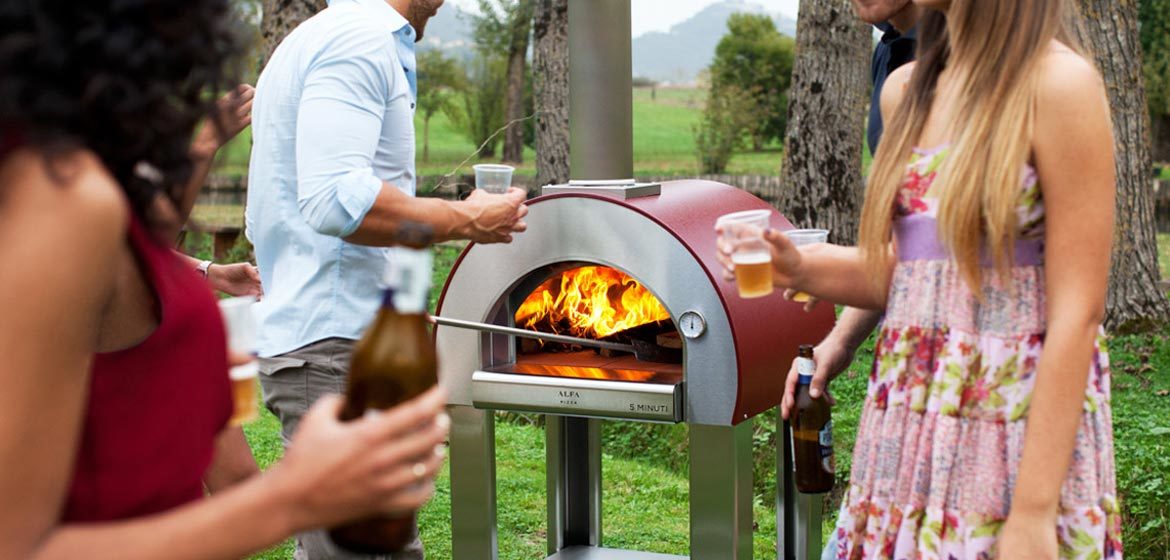 5 Minuti Pizza Oven, by ALFA Ovens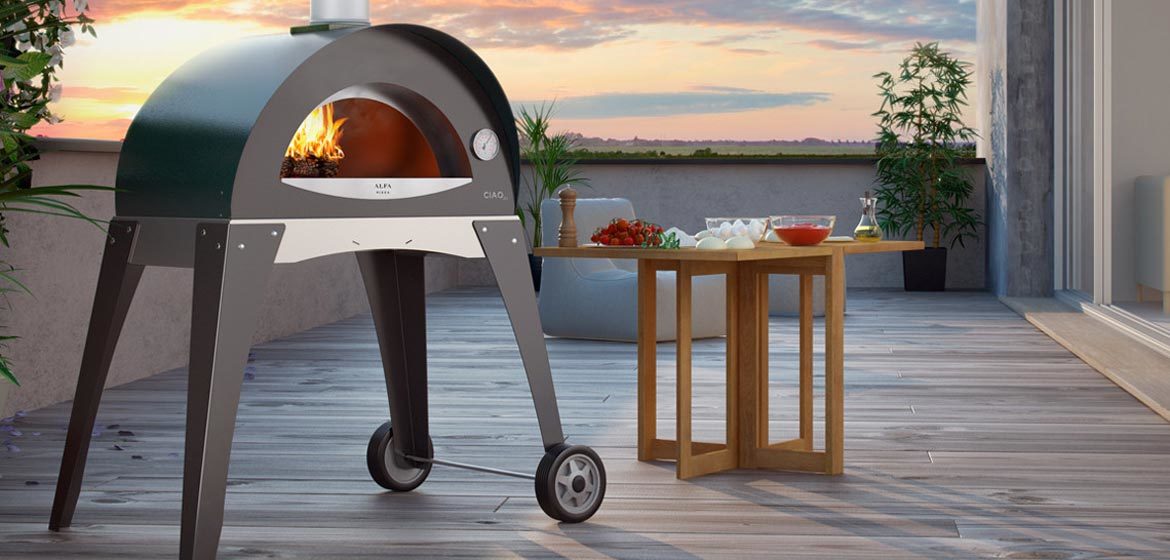 Ciao Pizza Oven, by ALFA Ovens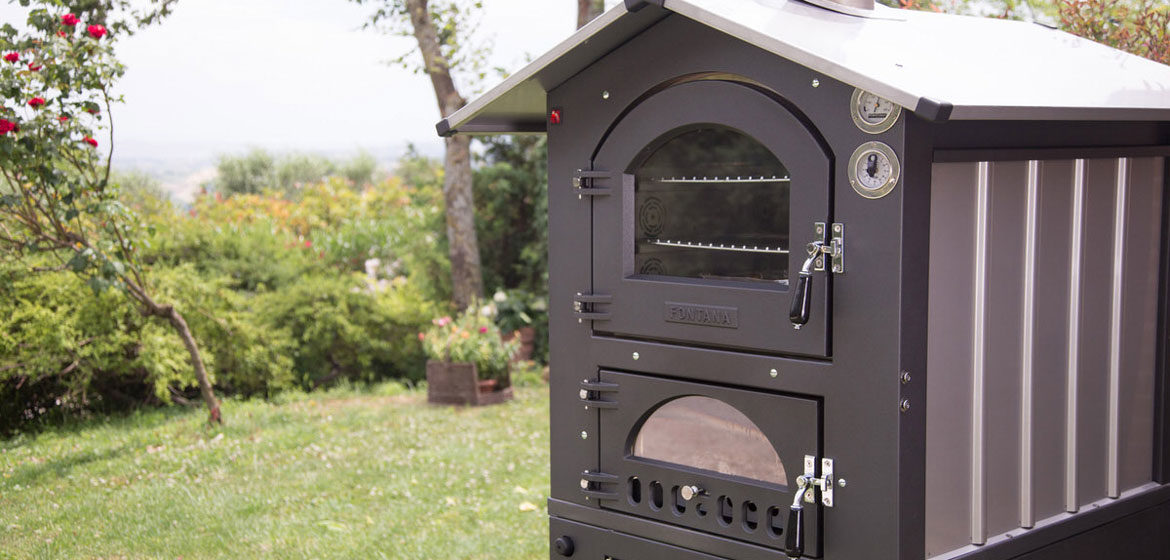 Gusto 80 Dual Chamber Oven, by Fontana Forni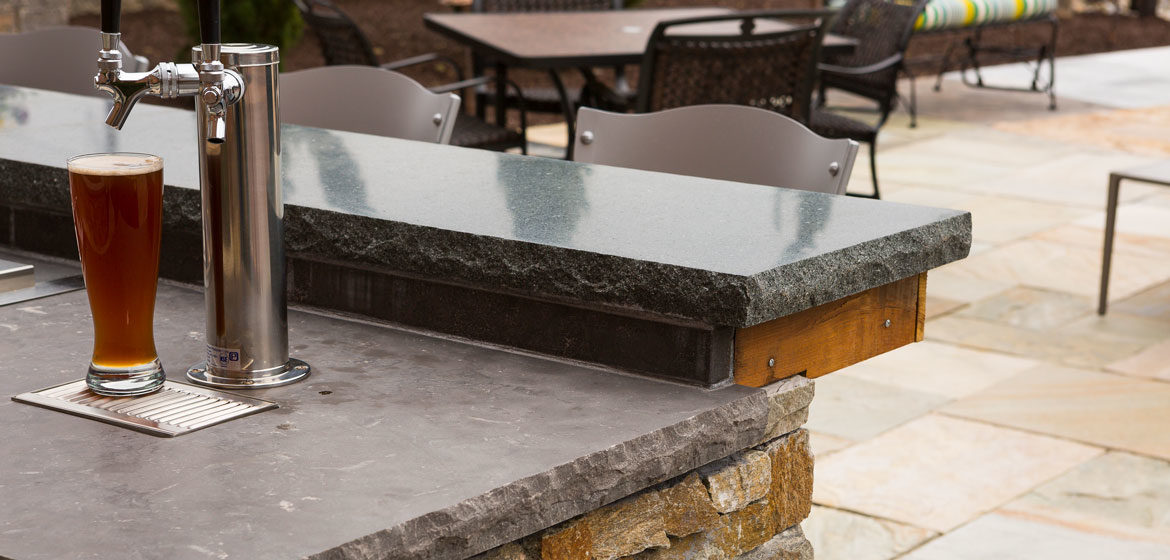 Honed Chateau and Polished Filo Blue Outdoor Kitchen Countertops, by Rolling Rock Building Stone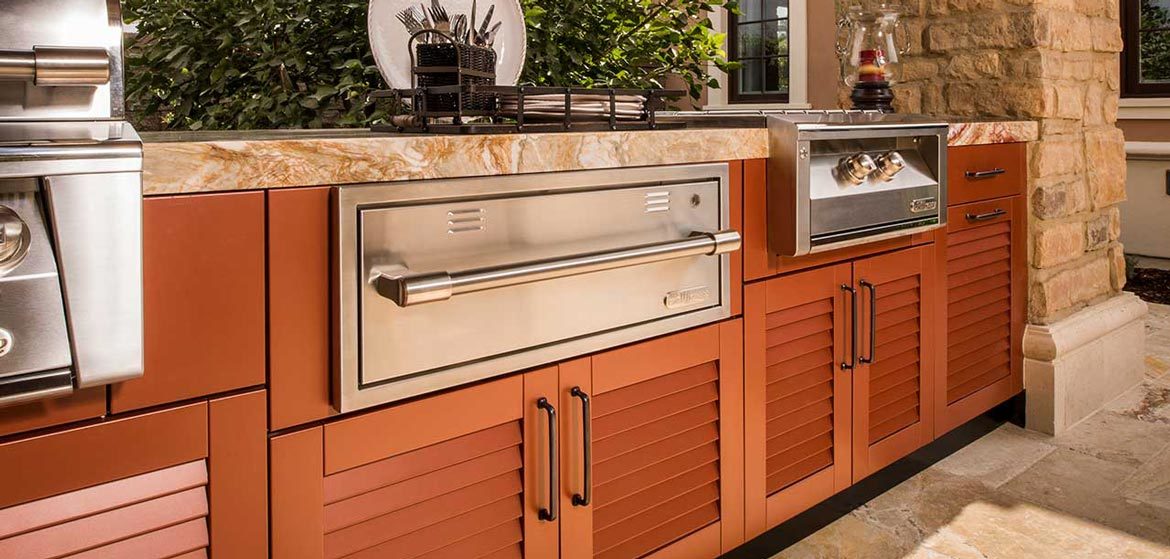 Danver Outdoor Kitchens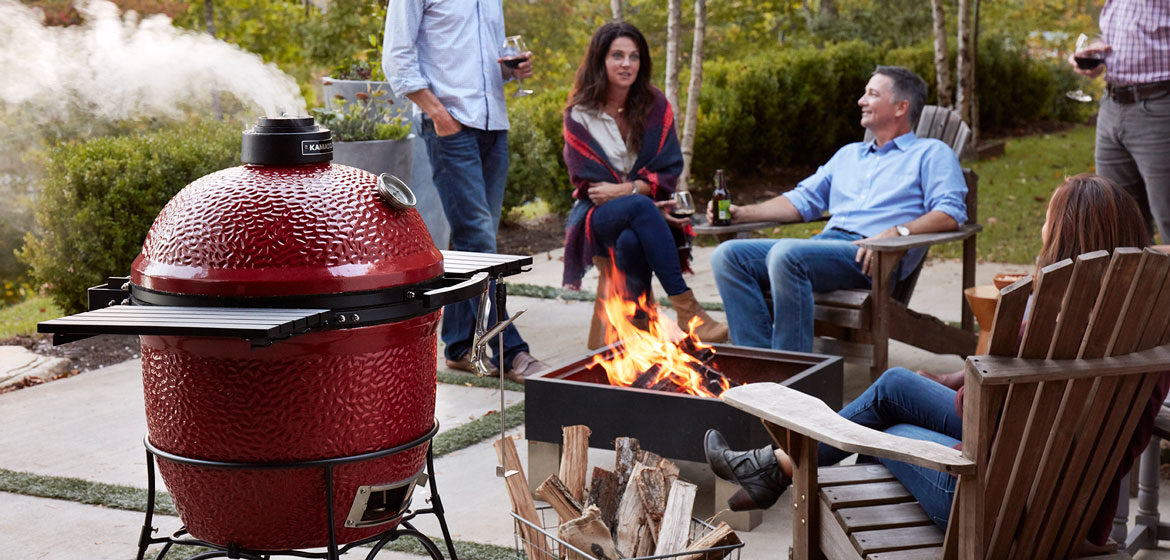 Classic Joe Grill, by Kamado Joe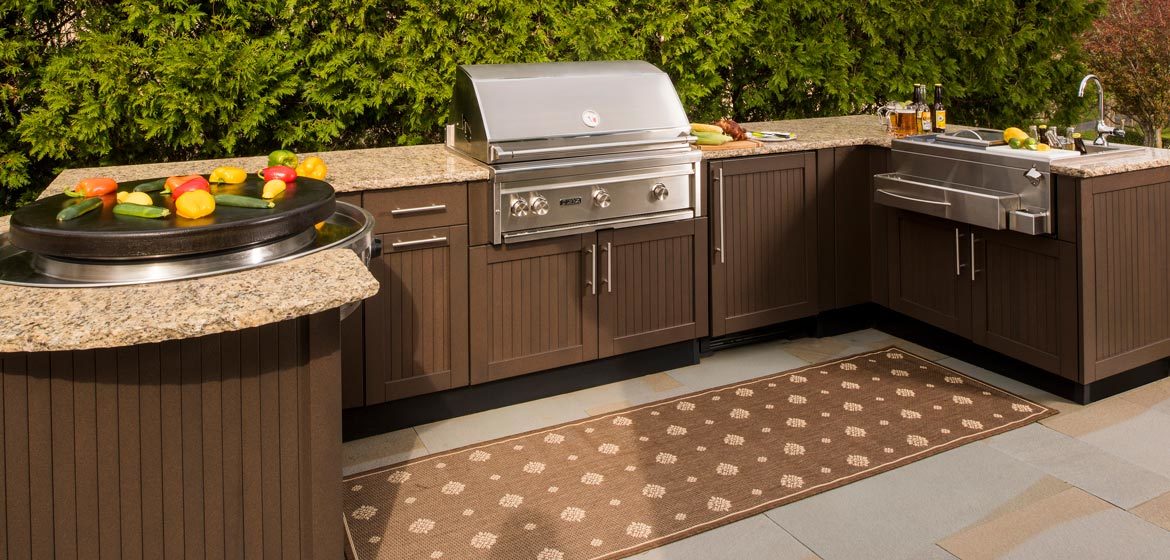 Danver Outdoor Kitchen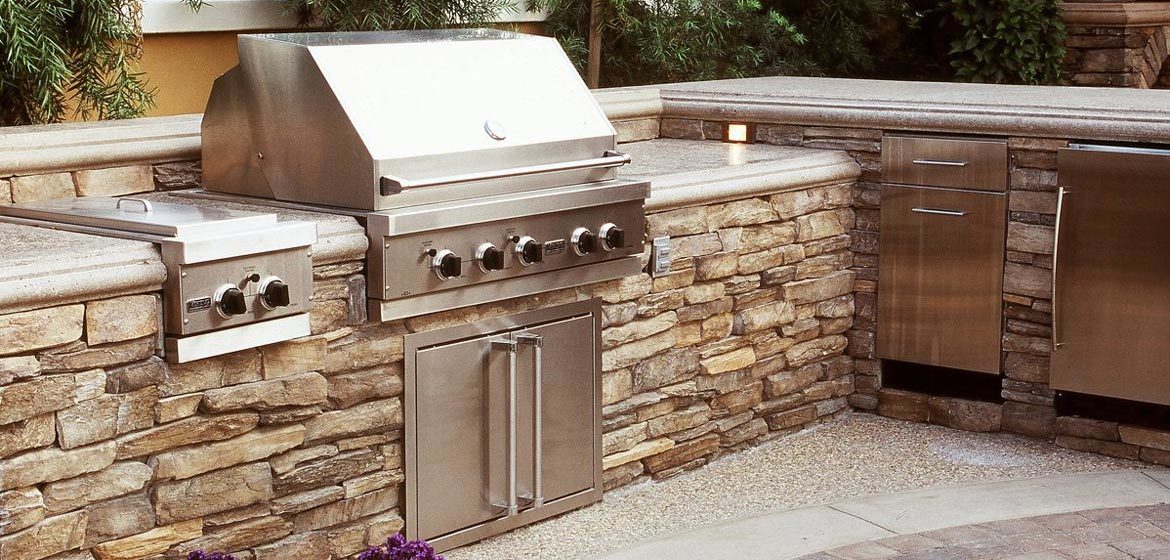 Eldorado Outdoor Kitchen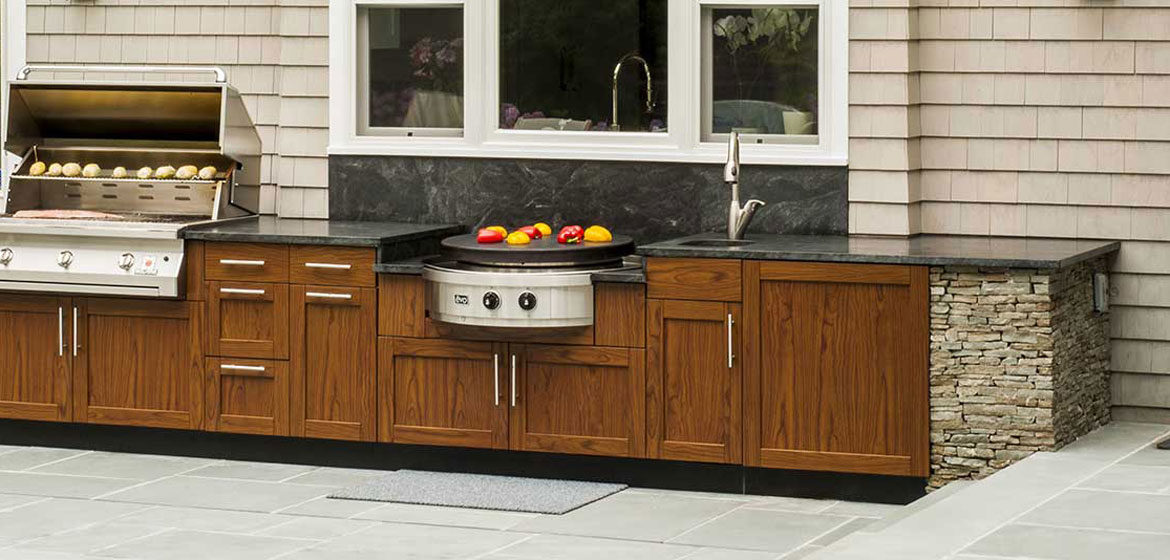 Danver Outdoor Kitchen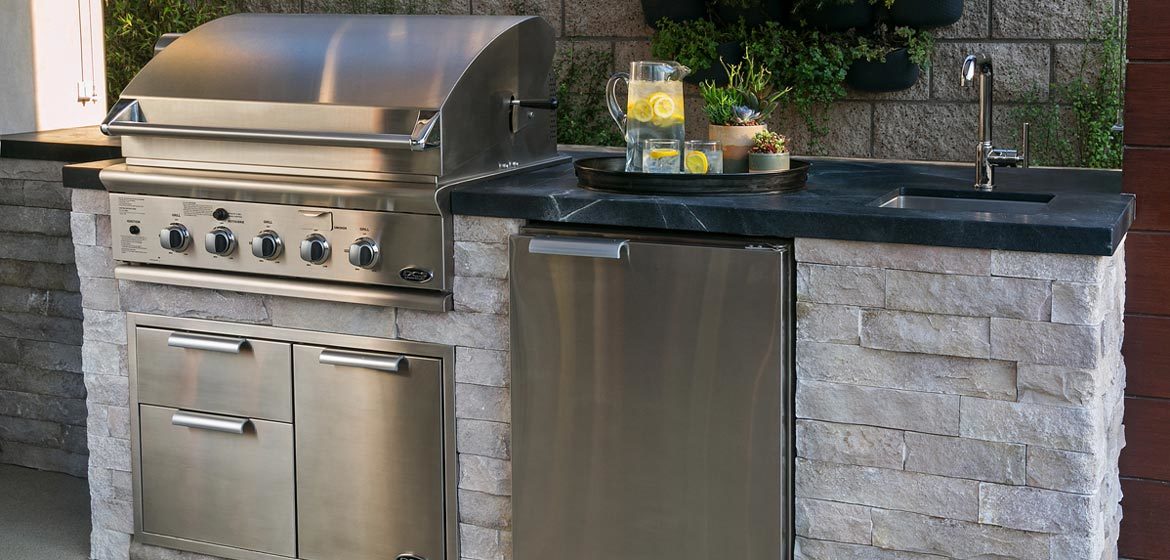 Eldorado Outdoor Kitchen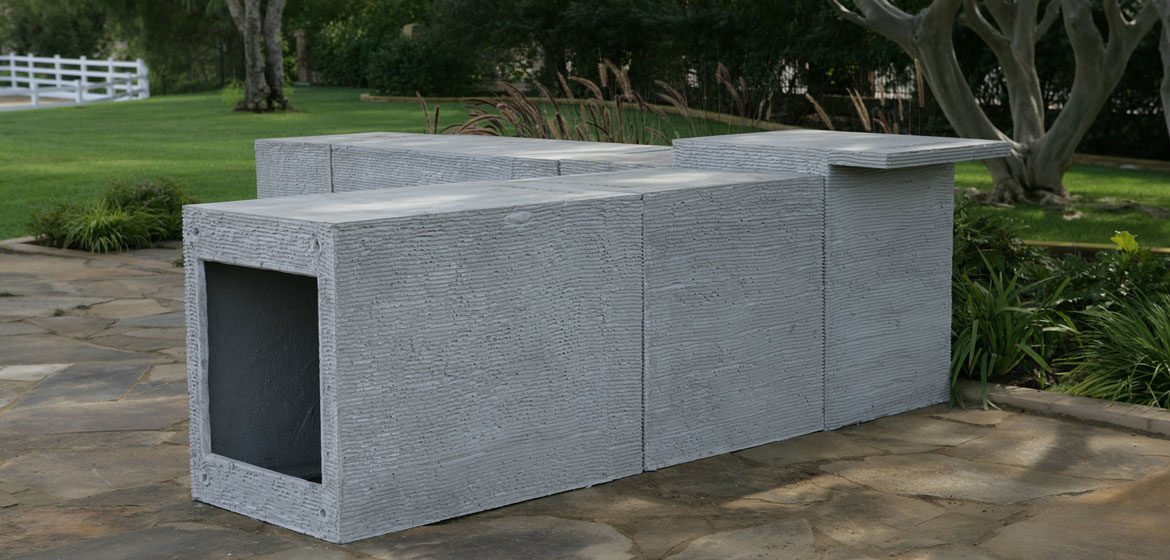 Eldorado Outdoor Kitchen Cabinets (Before)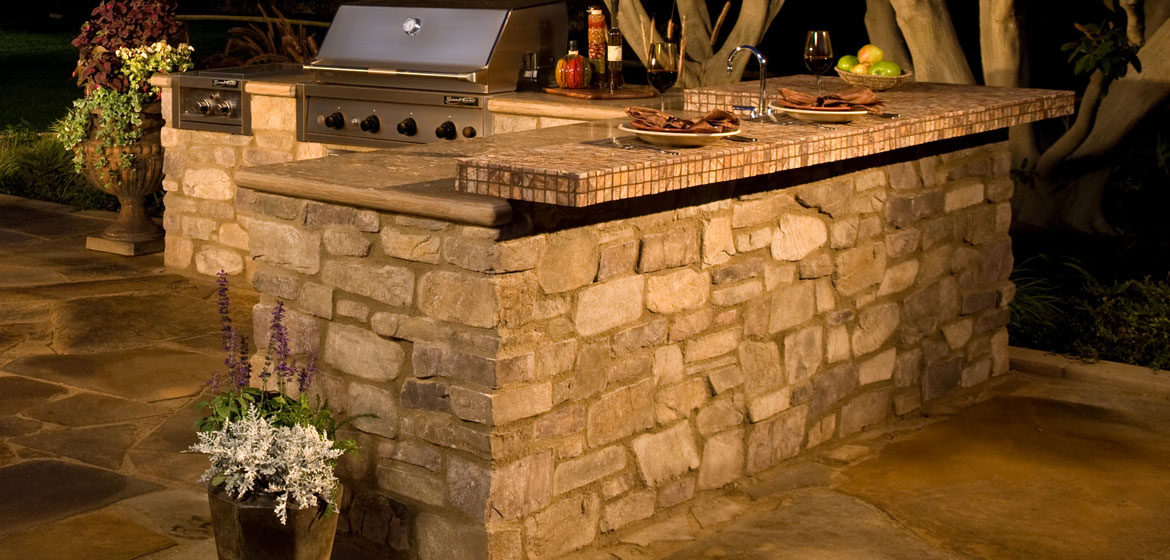 Eldorado Outdoor Kitchen Cabinets (After)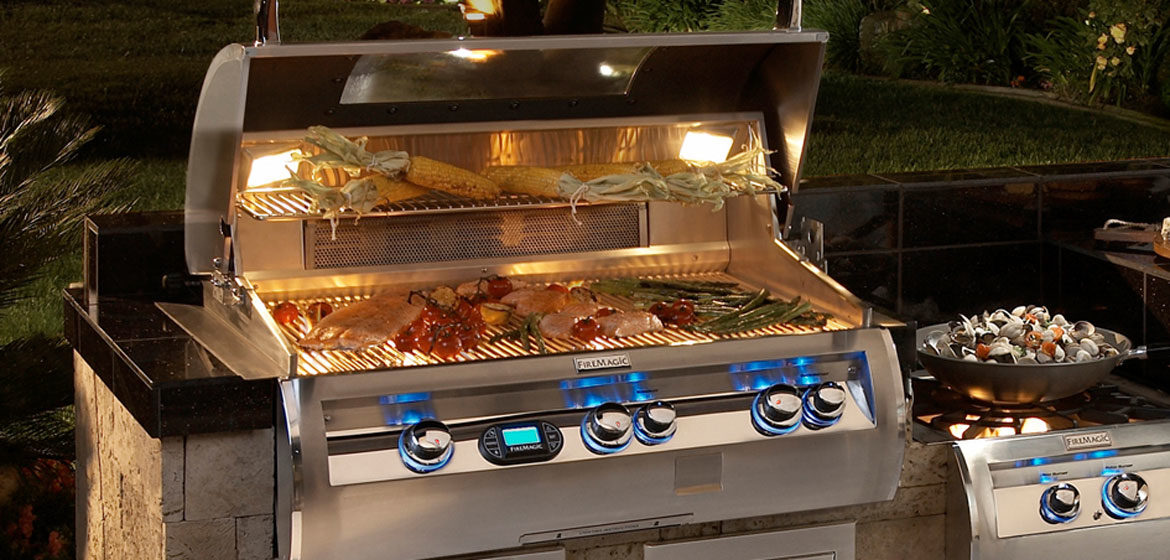 Echelon e660i, by Fire Magic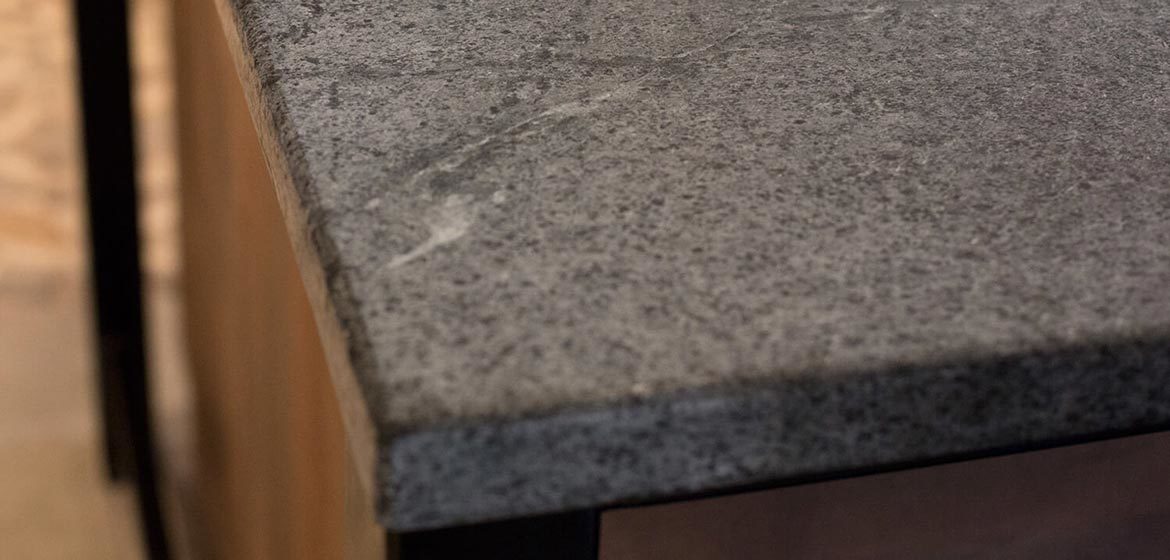 Alberene Soapstone Countertop, by Polycor
At Penn Stone, we carefully select brands that allow us to offer our customers top-quality products at a range of prices. Learn more about our outdoor kitchen and outdoor cooking partners below.