Porcelain Landscape Tile
Design your patio or rooftop deck with stylish porcelain landscape tile
Porcelain landscape tile is the most recent addition to our collection of hardscaping materials. Porcelain tile has a long and successful history of interior use, but the thickness of traditional interior material is not suitable for outdoor tile applications. In the past several years, many manufacturers have developed thicker options that perform well in landscape installations.
Porcelain pavers feature a clean, contemporary look, and offer colors and patterns that are not easily found in our natural flagstone or concrete paver collections. Porcelain tile pavers are frost-resistant, skid-resistant, and stain resistant, and are available in a range of sizes. Nearly every selection is available in a 24" x 24" square, and select products are available in rectangular and "plank" patterns.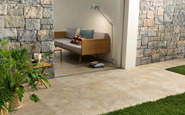 Bring the indoors outside
One of the primary benefits of landscape porcelain tile is the opportunity to create a seamless transition from an indoor space to your outdoor living environment. In most instances, porcelain landscape pavers have matching or complementary interior tile, or are thin enough to be installed in an interior application with proper planning.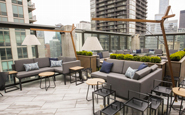 Create a rooftop patio
Porcelain pavers provide an excellent solution for creating a rooftop patio. When planning a rooftop deck or patio, structural concerns are paramount, and porcelain pavers offer a beautiful alternative to traditional decking materials without adding the weight of a traditional concrete paver. Rooftop installations would include the use of adjustable pedestals to accommodate roof slope while still providing a flat and level patio.
Upgrade an old concrete patio
Porcelain landscape tiles are also ideal for resurfacing an existing concrete patio. They are thin enough that they can be installed as a concrete overlay without adding excessive height to the existing patio, and their uniform thickness allows for installation using a thinset mortar.