Brick Pavers
Geniune clay brick pavers provide unmatched character and outstanding durability
Clay brick pavers are an excellent solution for patio, walkway and driveway projects. Genuine clay pavers are strong, durable, require minimal maintenance, and create pavements that age gracefully and look better with each passing year. Brick pavers can be dry-laid or installed in a mortared-in application, and are available in a variety of styles and colors. The appearance of a brick paver is often determined by the manufacturing process used.
Visit our showroom to see dozens of samples of clay brick pavers, including fifteen built-in displays of our most popular selections from Pine Hall Brick, Glen-Gery Brick and Whitacre Greer.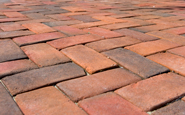 Molded Brick Pavers
Molded brick pavers such as Glen-Gery's 53-DD or 26-HB Flashed feature a eased edges and a warm, welcoming look. They are produced when sand-coated clay is pressed into a wooden mold-box, and the clay is released from the mold and fired. The firing process bonds the sand to the brick to produce the final color. Molded pavers often have a lower compressive strength than extruded brick pavers, but are well-suited to any pedestrian application.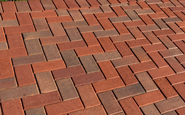 Extruded Brick Pavers
For a crisp-edge paver with a clean look, consider extruded brick pavers like Pathway Full Range from Pine Hall Brick or Glen-Gery's K&W Old Smokie. Extruded pavers are produced when a column of clay is pressed through a die, then wire-cut into individual bricks. Extruded pavers are through-body bricks - the color of these pavers is determined by the combination of the clays and mineral additives used, as well as the firing temperature in the kiln. Extruded pavers are typically stronger than molded pavers, and are suitable for both pedestrian walkways and vehicular applications. Extruded brick pavers are also typically more affordable than molded brick pavers.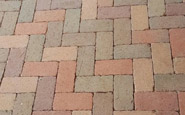 Tumbled Brick Pavers
Extruded pavers are also the starting point to produce a tumbled clay paver such as Pine Hall's Rumbled Rose or Glen-Gery's Market Street Paver. Tumbling distresses the bricks to replicate the look of a time-worn brick street or sidewalk. Tumbled brick pavers have a great deal of historic character, but retain the high compressive strength of extruded pavers.