Spring Training + Happy Hour
Join us on Wednesday, March 30 for our annual Spring Training event, followed by a happy hour reception.  Our schedule for this event is as follows:
2:00pm: Economic Forecast Livestream

featuring Associated Builders & Contractors national economist, Anirban Basu*

3:00 pm: Laura O'Neill from PA CareerLink will present an overview of business services for employers, including:

Free employer job-posting board
Searchable job-seeker database
Job matching & pre-screening services
Opportunities to promote open positions via email and social media
Job fairs

3:30pm: Jason Muehleck and Melissa Cassady-Shytle from Ameristaff will discuss Strategies for Hiring in 2022, including

Searching for candidates beyond Indeed
Differentiating your company as a desirable place to work
Tax credits and local, state & federal incentives to mitigate high employment costs

4:00pm: Product line updates for 2022

Presentations by EP Henry & Unilock
Other 2022 updates from Penn Stone

5:00pm: Happy hour reception
Due to space limitations, please limit registration for this event to company owners, designers and salespeople. There is no obligation to attend all sessions – join us for the portions that fit your interest and schedule.
There is no charge to attend – we hope you can join us!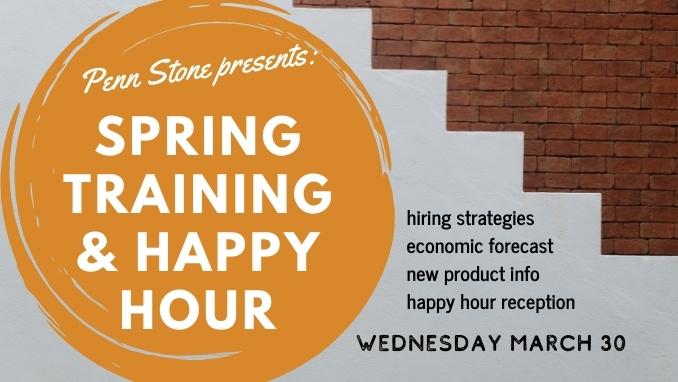 Ah, you missed it!
This event is over now, but don't worry—we always have new ones coming up in the future!
Upcoming Events