Spring Training 2023
Join us on February 21 when we host Spring Training, our annual event featuring important product updates and industry news to prepare hardscaping contractors for the upcoming season.
Advance registration is not required.
Please feel free to drop in as your schedule permits and join us for as many sessions as fit your schedule.
Our agenda is as follows:
9:30am: Introduction to Chesapeake Bay Landscape Professionals, a regional organization offering valuable training on sustainable landscape practices in the Chesapeake Bay region
10:00am: EP Henry 2023 product and pricing update
10:30am: Unilock 2023 product and pricing update
11:00am: Penn Stone 2023 news, including new products, new staff introductions, and more
Our event will also include a Philadelphia Phillies ticket giveaway!
The day will begin  at 9am with complimentary continental breakfast and will end with a catered lunch.
Due to space limitations, please limit registration for this event to company owners, designers and salespeople.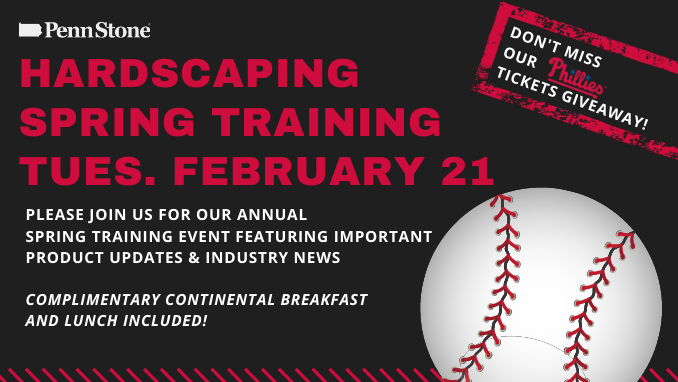 Ah, you missed it!
This event is over now, but don't worry—we always have new ones coming up in the future!
Upcoming Events