Design Trends with Brown Jordan's Steve Elton
Join us on Thursday, March 7 when Steve Elton, Brown Jordan's Chief Brand Curator, will discuss Textile and Color Trends for 2019 and beyond. Steve has a passion for textile design, especially as it relates to outdoor living, and is a Pantone Color of the Year panelist. His presentation will discuss patterns, fabrics and other factors to consider when selecting outdoor furniture. Steve will also discuss how the use of textiles can blend your indoor and outdoor spaces.
About the presenter: Stephen Elton currently serves as the Chief Brand Curator for Brown Jordan, where he also has a personal passion for preserving the history of Brown Jordan and educating others on the three pillars of the brand: heirloom quality, design innovation and jewel-like precision. He oversees the curation process for all Brown Jordan showrooms, product catalogs, photo shoots and special projects. With a keen eye for innovative textiles and colors, Steve develops strategic partnerships with companies like Sunbrella who produce exclusive fabrics for Brown Jordan.
Steve Elton is most recognized for the design projects he's completed at The Ritz-Carlton Paris, The White House, The Oscars Green Room, Smithsonian Gardens, Winterthur, Sandy Lane Barbados, Camden Yards, Yankee Stadium and The Beverly Hills Hotel.
He resides with his wife Miriam of 33 years in Cape Charles, a quaint beach
community located on the eastern shore of Virginia.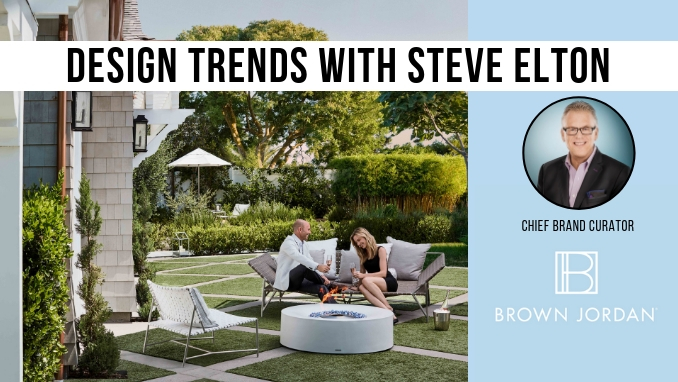 Ah, you missed it!
This event is over now, but don't worry—we always have new ones coming up in the future!
Upcoming Events