Unilock Update 2018
We are entering our 7th year as a distributor for Unilock concrete pavers, retaining wall systems, natural stone and porcelain tile as part of our lineup of hardscaping products. We are proud to say that our Unilock business continues to grow, and more customers each year are discovering the distinctive patterns and colors available within the Unilock product line.  We had an excellent year in 2017, and were honored at Unilock's Awards of Excellence for Excellent Select Sales. This award is thanks in large part to our work at The Shoppes at Belmont, where we furnished Unilock's Rivercrest Wall and Brussels Block pavers.
Introducing beautiful new paver colors, the innovative U-Cara Wall System, and more
As we start the new season, we are looking forward to another exciting year, and there are some important updates regarding new selections and other Unilock product changes.
U-Cara Wall System: simple and versatile
The most exciting addition is the U-Cara wall system.  This patented system features the Sure-Track backer block combined with with ten options in fascia panels for an amazingly versatile system that remains simple to construct. Watch this introductory U-Cara video to learn more:
Beacon Hill: color additions and a new size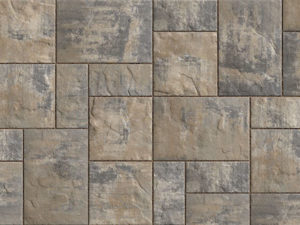 Unilock is also expanding and updating their Beacon Hill collection of patio pavers for 2018.  Beacon Hill XL is a new size option available in both Beacon Hill Flagstone and Beacon Hill Smooth. This 21" x 25" rectangle can be integrated into the typical random Beacon Hill pattern, and is sold separately from the Random Bundle.  Fossil (shown at right) is a new color in the Beacon Hill collection, and is scheduled to be available in May 2018. Copper Ridge is another color addition to Beacon Hill, and will replace Desert Valley which is being discontinued.

Other Unilock product and color additions
There are numerous other changes to the Unilock line for 2018, including the following new colors and patterns: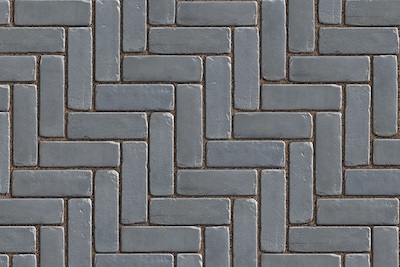 Artline is now available in Copper Ridge color
Treo is now available in Copper Ridge, Steel Mountain and Brown (Brown will be available in Treo Small Rectangles only)
Transition is now available in Steel Mountain
Westport is now available in Steel Mountain
Copthorne now features a new color, Steel Blue
Richcliff Large Rectangle, a 12" x 21" rectangle which will work with the existing Richcliff 3-piece pattern
Richcliff is also available in a new color, Smoked Shale
Umbriano is now available in French Grey and Harvest Brown. All Umbriano colors are also now available in the random bundle.
Mattoni is a new product, available in three colors
A new curb unit is available in Tribeca Cobble
Also for 2018, Penn Stone is also taking a brief pause with Unilock's Bristol Valley pattern. Currently, this pattern is only produced in Unilock's Chicago manufacturing plant. Later this summer, production of this pattern will resume in New York, but until that time we recommend that customers select a different pattern. Once production resumes, Bristol Valley will be available in Steel Mountain and Bavarian colors, and will feature EasyClean Technology.
Discontinued Products
The following products are being discontinued:
Transition in Sycamore and Desert Valley
Umbriano in Autumn Sunset
Brussels Block and Brussels Dimensional Wall in Terra Cotta
Rivercrest Coping
Ledgestone Coping and Caps in Blue
These exciting product, pattern and color additions will continue to position Unilock as a leader in the concrete hardscaping industry, and we're proud to represent their line of patio pavers and retaining wall systems at Penn Stone.