Penn Stone Welcomes Alfa Pizza Ovens to North America
Alfa Ovens, an Italian company specializing in outdoor pizza ovens, has selected Penn Stone as their first US dealer. Penn Stone celebrated Alfa's arrival with an Italian Taste & Tour event on June 8 when Alfa's founder Rocco Lauro joined the Penn Stone team to demonstrate how to bake delicious homemade pizza in their wood-fired ovens.  Alfa's ovens are the latest addition to our collection of products for outdoor cooking and outdoor living, and will be showcased in our outdoor showroom.
Backyard Pizza Ovens Are Gaining Momentum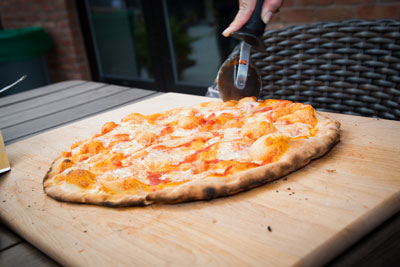 Following the recent success of wood-fire cooking restaurants throughout Europe and North America, pizza ovens provide home chefs with the ability to cook delicious pizza, bread, roasts and more at temperatures that can only be reached outdoors.  "We imagine a world where the wood-fired oven becomes an intuitive device for everybody. We'd like to bring people back to their roots and see one of our flame ovens in every home," according to Lauro.
In recent years, we've seen both increased interest in pizza ovens, as well as advances in both the operation and pricing of outdoor ovens.  Early ovens were built-in masonry projects. Purchasing the proper components was somewhat expensive, and constructing the oven required a skilled mason – often, the cost of installing an outdoor pizza oven exceeded $6,000.  These ovens were also challenging to use – they often required several hours to build up to the proper temperature for baking pizza.
Alfa ovens are a significant improvement.  The smallest Alfa oven can reach the target temperature of 700-degrees in less than ten minutes, and prices start at under $2000.  Plus, they are portable, allowing them to be moved around your outdoor kitchen, or even stored when not in use.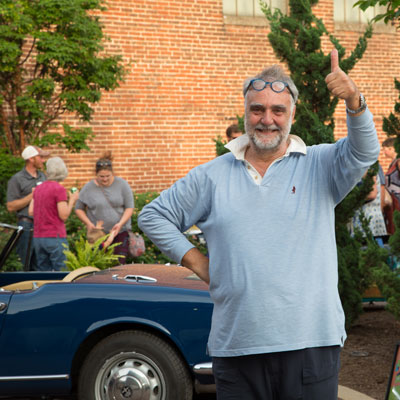 The History of Alfa Ovens
Alfa Ovens was founded in 1977 by Lauro and his cousin Marcello Ortuso, building ovens for backyard parties.  Since then, Alfa has developed an expansive collection of residential and commercial ovens for both outdoor and indoor use.  Their outdoor ovens are constructed using 304 stainless steel, incorporate the finest Italian ceramic materials as well as double layers of European rock wool insulation, and are engineered to achieve optimum baking temperatures in less than ten minutes.  Alfa has experienced great success in Italy and Europe, and is enthusiastic about entering the US market.
A Neighborhood Event
Special thanks to two other  neighborhood businesses for their part in our kickoff event: Gesino's Italian Specialty Foods furnished authentic imported pizza ingredients for oven demonstrations along with an Italian wine tasting, and Michael's Motor Cars added a touch of Italian style to the evening, showcasing vintage automobiles from Fiat, Alfa Romeo and more.
Learn More
Penn Stone is excited to add Alfa Ovens to our line of Outdoor Cooking products, and we're especially thrilled to be the first US dealer for Alfa.  Stop in to learn more about wood-fired pizza ovens, and watch for more upcoming events showcasing how easy and fun it can be to cook pizza, bread and more in your own outdoor oven.