Landscape Lighting: Which Type is Best for You?
Landscape lighting can expand the use of your outdoor area while adding ambiance and highlighting architectural or garden features. However, with so many choices you may be wondering what outdoor lighting features are right for your space. We've broken down the options to help you find the perfect lighting for your home and expand your Life Built Outdoors beyond daylight hours!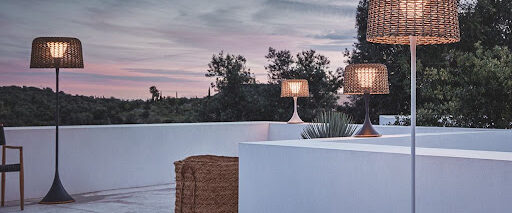 OUTDOOR LAMPS & LANTERNS
If you are looking for moveable light sources, tabletop and freestanding lamps and lanterns may be a perfect choice! They offer an immediate result without the need for any installation. Our outdoor lighting options are rechargeable, which allows you to light your space without having to deal with pesky plugs and chords. We feature several brands of rechargeable freestanding lamps including Fermob, whose Balad line transitions easily from tabletop to overhead use with one of several stand options.

CAFE & PATIO STRING LIGHTS
For a more permanent option that offers elegant ambient light, try Cafe or Patio string lights. These can be easily installed and offer an immediate "glow up" to your outdoor space. Penn Stone offers a variety of lengths from Aspen brand lighting. If you want to really set your space apart, we also have a variety of bulb options including Edison bulbs that add a warmer feel than traditional LED lighting.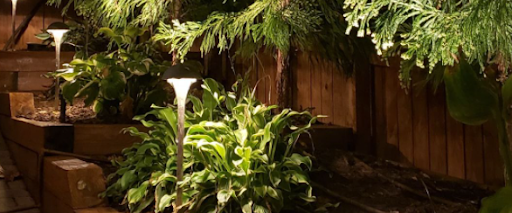 LOW VOLTAGE LANDSCAPE HIGHLIGHTING
Permanent landscape lighting offers an energy-efficient way to light up your outdoor walkways for enhanced safety and to illuminate areas of your home or built landscape to highlight them after the sun goes down.
Specialty landscape lighting fixtures can add highlights to garden walls, enhance the safety of landscape paths and staircases, and uplight your favorite tree. We offer a variety of landscape options from CAST, WAC & Integral Lighting so you can customize the look of your lighting features to match your home's design aesthetic. Nearly all landscape lighting fixtures are available in halogen or LED technology, and select fixtures feature options to change lighting color, dim your landscape lighting, and adjust the lighting color temperature. We recommend professional installation for most landscape lighting applications and can recommend local professional lighting designers and installers for your project.
Whatever your choice, adding lighting to your space ensures that you can look forward to many more hours enjoying your life built outdoors! To check out our lighting options in person, swing by our showroom to get an idea of what landscape lighting option is the perfect fit for your home.