2021 Inspiration Guide: Invest in Your Outdoor Spaces
A new year is well underway, and we're excited about all of our customers' exterior improvement projects to come! After spending more time at home last year, we're expecting many people will continue to pursue more of a Life Built Outdoors in 2021. We encourage you to invest in products and projects that make your outdoor areas better-suited to meet your lifestyle needs. Below, we have compiled a list of three topics to consider while brainstorming how to improve your outdoor spaces this year.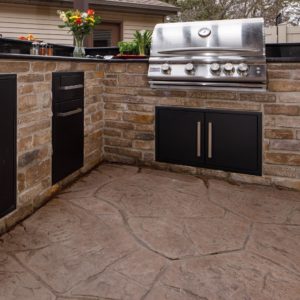 Determine Your Outdoor Living Goals
Many people think of their home's interior and exterior spaces as being separate from each other. Rather than seeing them as completely different areas, reimagine your outdoor spaces as an extension of your indoor spaces.
When planning your project, determine what your goals are for the space. If you enjoy cooking new recipes or sharing meals together as a family, then an outdoor kitchen and dining area would be a wonderful addition to your backyard. If you like relaxing outside with a good book, gathering for a family movie night, or watching televised sporting events at a deck bar, then an outdoor living room would be a wise investment.
We are proud to source stylish, top-quality masonry materials, furniture, and appliances from some of the world's finest outdoor living companies such as Unilock, Brown Jordan, and ALFA Ovens. Our design specialists are well-equipped to help you select the best products to fulfill your outdoor living goals.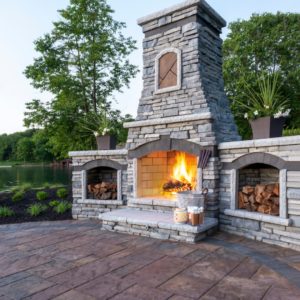 Equip Your Spaces for Year-Round Use
Regardless of temperature conditions, you should be able to use your outdoor areas all year long. Gain the most from your spaces in 2021 by adapting them for all four seasons.
For spring and summer weather, consider a shade solution to cool you off and protect you from the sun's powerful rays. We offer cantilever and market umbrellas in a wide range of shapes and sizes. Every umbrella is customizable, so you can choose from a wide range of canopy fabrics and pole finishes to coordinate with your style. For added sophistication and style, consider purchasing a specialty shade sculpture from TUUCI or a retractable awning from Solair.
To modify your space for fall and winter weather, incorporate a fire feature into your landscape. Adding this feature can be as simple as purchasing a freestanding fire table or building a permanent fire pit. Or, create a stunning focal point for your outdoor living space by opting for an outdoor fireplace. We offer a variety of masonry materials to construct a beautiful, custom-designed outdoor fireplace. For a simpler, cost-effective option, we also carry pre-designed Isokern modular fireplace sets from Earthcore. Our experts will even help pair you with a contractor that you can trust to complete your project exactly as you imagine.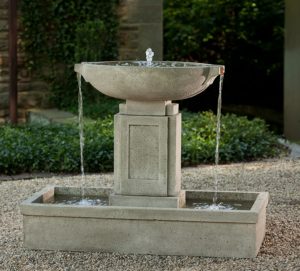 Incorporate Your Personal Style
Every outdoor living space calls for distinctive accents that reflect nature and reinforce your personal style. You may not be able to spend time in your outdoor spaces every single day, but you can still appreciate the beauty of your landscape from the window whether working from home, washing the dishes, or even reading on the couch. To enhance your exterior spaces, we suggest incorporating accent pieces that complement your design style. Add visual interest to your outdoor sanctuary by purchasing beautiful plant containers, soothing fountains, or unique garden statuary from Campania International.
Another way to elevate the look of your landscape is to add outdoor lighting! From rechargeable lanterns and elegant patio string lights to low-voltage, specialty landscape light fixtures, we carry a great selection of lighting solutions to enhance the beauty of your home and add nighttime ambiance to your outdoor spaces.
Whether you are planning a large project like building an outdoor kitchen, or you simply want to add a few focal points like a fountain or statue, we'd love to guide you through the process. Please note that currently, manufacturing lead times for masonry materials and furniture are long, so we recommend you submit your orders within the next few weeks for the earliest possible delivery date. Call us today at (717) 397-5264 to schedule an appointment with one of our design experts and browse our showroom.