How Long Can Patio Furniture Last?
When you invest in furniture for your outdoor spaces, you don't want to have to replace it after just a few years of use. Depending on the quality and material, patio furniture can last for several decades if properly maintained. 
Before purchasing new pieces, there are a few things to consider to ensure your investment is worthwhile. Read on for tips when selecting your pieces as well as a few suggestions to help you maximize the lifespan of the furniture.
Buy From a Quality Brand
If you want to enjoy your patio furniture for years to come, buy from brands that are known for producing high-quality, durable products. When comparing brands, aim to answer these four questions: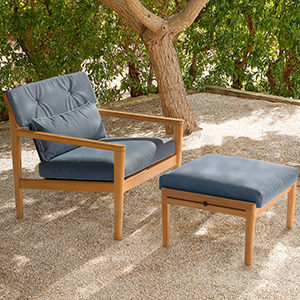 Select Durable Materials
There are many options available for patio furniture materials—some of which are better suited to endure weather than others. We recommend the following long-lasting materials:
Teak:

Due to its high natural oil content, teak is naturally resistant to water damage and rot. Unlike other woods, teak does not warp, crack, or become brittle over time. With proper maintenance, teak furniture can last for 25+ years or longer.

Aluminum:

Incredibly lightweight, strong, and rust-resistant, aluminum is the most commonly used metal for outdoor furniture. Although highly weather-resistant on its own, aluminum furniture is typically powder-coated, adding further protection against water, corrosion, and scratches. Properly coated aluminum furniture can last 15+ years.

All-Weather Wicker:

Made from synthetic polyethylene resin that closely resembles natural wicker, all-weather wicker is durable, fade-resistant, and waterproof. When properly maintained, synthetic wicker can endure for 20+ years.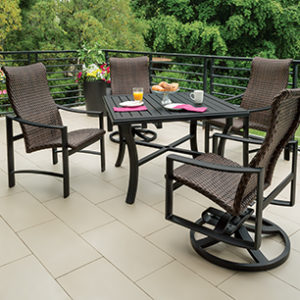 Commit to Cleaning
Extend the life of your outdoor furniture with regular cleaning. This can be as simple as wiping the frame with a damp cloth to remove built-up dirt every few weeks. Take greater care with poolside furniture by hosing it down weekly to remove chlorine deposits and prevent corrosion. If you have fabric cushions, wash them periodically with a mild detergent and a soft-bristle brush. You can also use a fabric-protecting spray to make fabrics more resistant to mildew. You won't regret committing to cleaning when your patio furniture lasts season after season.
Be Aware of Surroundings
When you arrange your outdoor furniture, be mindful of your surroundings. Whenever possible, avoid placing furniture directly under trees that can drop debris such as nuts, leaves, and sap, which can stain your pieces. Placing furniture under trees also makes it more susceptible to bird droppings and destructive insects.
Winter Protection
Although patio furniture is made for the outdoors, it will last much longer if you limit year-round exposure to the elements. Protecting your furniture as much as possible from sun exposure, rain, snow, and extreme cold will maintain the pieces' beauty for as long as possible. At a minimum, intentional protection is vital during the winter months when you are rarely outdoors. Storing furniture offers the best protection, but minor damage is possible when transporting the pieces. Breathable covers also work well and are often the most convenient solution. You can extend the life of your furniture even more if you choose to use covers year-round.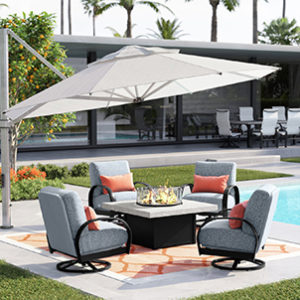 At Penn Stone, our goal is to provide you with products that you can enjoy for many years to come. If you would like assistance selecting long-lasting patio furniture for your home, our team of outdoor living experts would be happy to help you choose from our trusted brands. To schedule an appointment, visit our website or call (717) 219-7078.