History of Brickmaking in Lancaster
Join Penn Stone and LancasterHistory.org on Thursday, August 2 for a presentation on the History of Brickmaking in Lancaster County, presented by Wes Swanson.
The presentation will cover the Colonial Period to the Armstrong Era, and will include:
an overview of the kinds of bricks produced and the craftsmen who made them
insights into early brick-making techniques
local historical context regarding brickmaking and brickmakers
Hands-on materials will be available, and the presentation will be followed by a Q&A session.
Join us for light refreshments at 5:30pm, followed by Wes' presentation at 6pm.
About Wes Swanson: Wes has been working in the masonry trade since he was 16, first as a tender and then as a mason for Steve Groff Masonry. He left the trade to earn a degree in social studies education from Millersville Univeristy and then earned a graduate degree in American Studies from Penn State. He is entering his 13th year as a full-time American history teacher in the Hempfield School District. He continues to work in the summer as the owner of Wes Swanson Masonry. He currently resides in Manor Township with his wife and four children.
This event is currently at capacity and registration is closed.  If you'd like to be added to a waiting list for this event or for a future presentation of History of Brickmaking, please email us.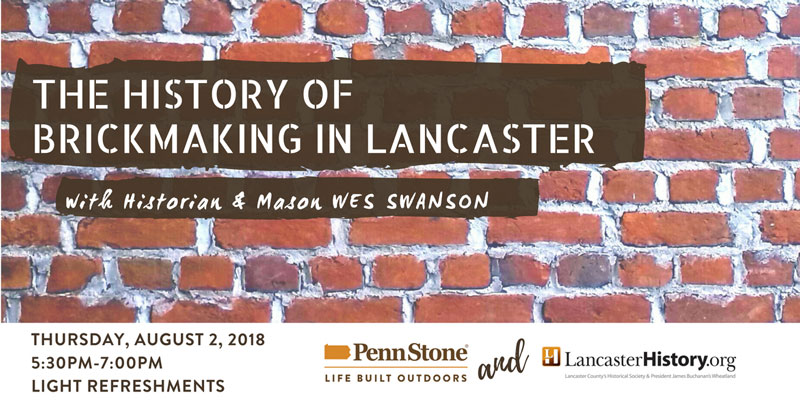 Ah, you missed it!
This event is over now, but don't worry—we always have new ones coming up in the future!
Upcoming Events