Comparing Pavers: Brick vs. Concrete
When planning a hardscaping project, you may be faced with a choice between brick and concrete pavers. Both are excellent options, as they are durable, long-lasting, and stylish. However, although there are many similarities between the two, they each have particular advantages and disadvantages to consider. This blog identifies the pros and cons of brick and concrete pavers to help you make the best decision for your exterior spaces. 
Brick Pavers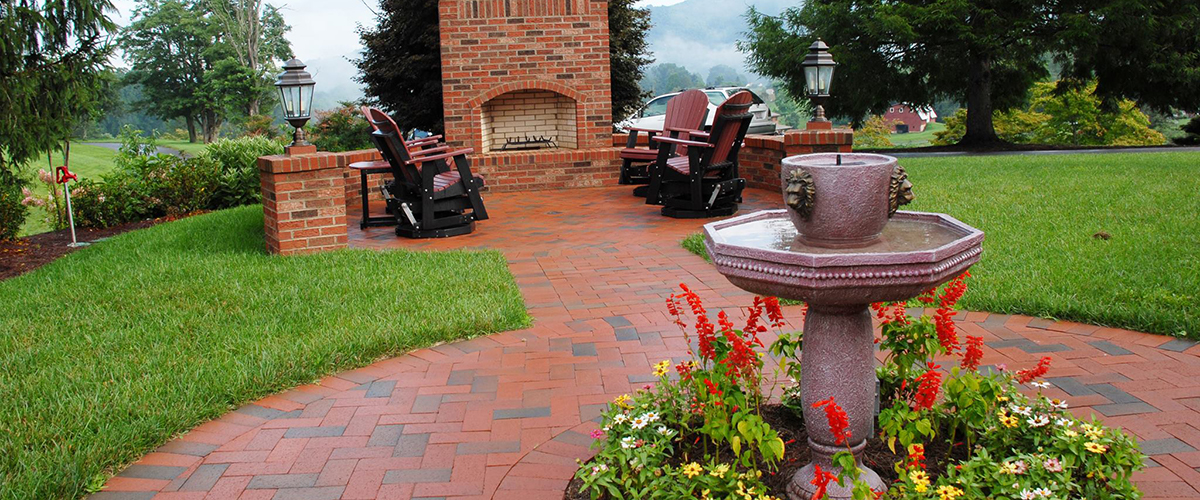 Genuine clay brick pavers are made from a blend of natural clays that are molded and fired in a kiln. Here are a few of their pros and cons:
Advantages of Brick Pavers
Durability:

Brick is one of the most durable and long-lasting construction materials and will retain its structure and beauty for generations.

Color Retention: Because brick pavers are made from clays and minerals with natural pigmentation, they retain their color incredibly well, even when exposed to excessive UV rays. Many customers agree that clay brick pavers look better after ten years than when they were first installed!
Low Maintenance:

Brick pavers require very little maintenance and do not need to be treated with a sealer to maintain their original appearance—ultimately allowing you to enjoy your hardscape without having to spend a lot of time or money maintaining your pavement.

Cost: Prices vary by style, but clay brick pavers are generally less expensive than comparable concrete pavers—as much as 30% less than some premium concrete paver products.
Disadvantages of Brick Pavers
Limited Variety:

Because brick paver colors are primarily determined by the color of the clay used in manufacturing, the range of choices is typically limited to pink, red, burgundy, and brown. Genuine clay brick pavers are also typically produced in a traditional rectangular shape only, limiting laying patterns to running bond, herringbone, and basket weave.

Complex Installation:

Because brick pavers are fired in a kiln, there may be slight variations in size, and these dimensional differences

can make installation more challenging, which increases labor pricing. This is most likely to occur with molded pavers, whereas extruded pavers are often far more uniform in size.
Concrete Pavers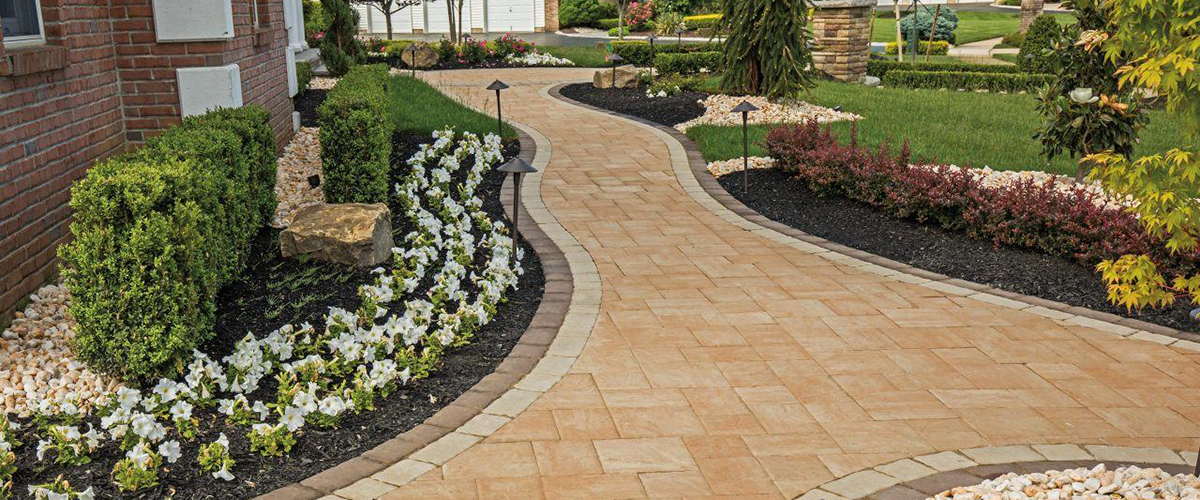 Concrete pavers are made from a mixture of cement and aggregate that is compressed into a mold then air-dried. Consider the following when deciding if they are the right choice for your hardscape:
Advantages of Concrete Pavers
Increased Variety:

Concrete pavers can be produced in various colors, shapes, sizes, and textures. Expanded design options are available, as you can combine products and styles to create a unique outdoor living space.

Easier Installation:

Concrete pavers are manufactured to precise, uniform dimensions, allowing for a more efficient and straightforward installation process.
Disadvantages of Concrete Pavers
Cost: As concrete hardscaping manufacturers have developed new sizes, patterns, textures, and colors, the cost of concrete pavers has increased. While some concrete pavers remain similar in price to clay brick, many of our most popular selections are 20% to 30% more expensive.
Prone to Wear and Fade: While concrete pavers will remain structurally sound for many years, the concrete surface will erode over time, exposing the aggregate and causing the color to fade.
Higher Maintenance: To prolong the pavers' aesthetic life, some homeowners choose to apply a penetrating sealer. Customers who choose to seal their pavers will typically need to reapply every five years, which adds cost and can be inconvenient.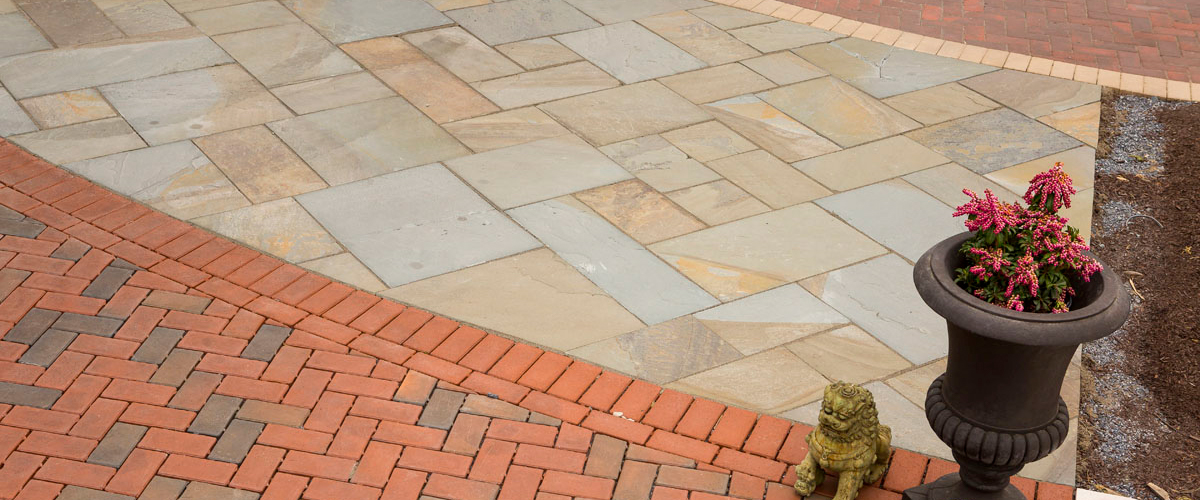 Choosing between concrete and brick pavers truly depends on your project and personal style. Clay pavers are very low-maintenance and age gracefully, while concrete pavers offer countless design possibilities. Knowing the advantages and disadvantages of both, we hope you feel more confident when determining the best-suited option for your project.
Before making your final choice, we encourage you to visit our showroom and explore our diverse selection of clay and concrete pavers! We have dozens of samples and more than 50 built-in displays of our most popular options from Pine Hall Brick, Glen-Gery, Whitacre Greer, Unilock, and EP Henry. For expert guidance in selecting the best materials for your new patio, walkway, or driveway, you can also schedule an appointment to meet with our design advisor, Amy.